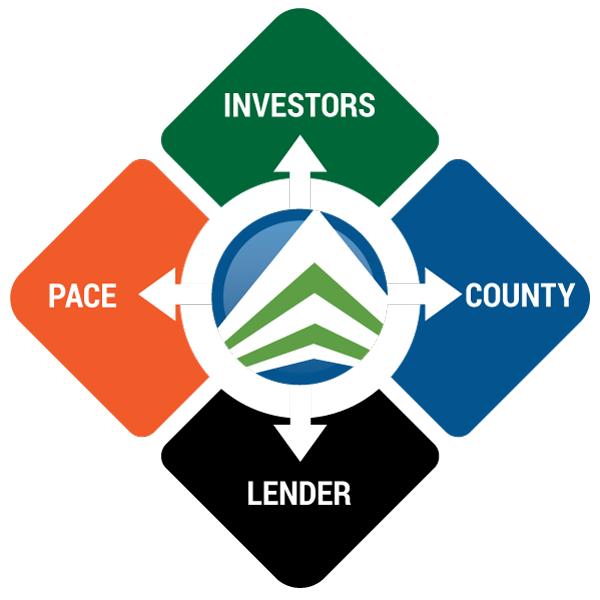 K2 Clean Energy Capital provides PACE financing services to contractors, developers, and renewable energy equipment manufacturers. We manage the project due diligence, municipal & lender approval, and financial underwriting details so your team can focus on closing and executing solar projects. Your sales team can obtain PACE financing project quotes, property reports, cash flow analyses, and PACE sales tools as well as manage customer quotes and documents through our proprietary PACE Web Portal.
Our financing services include:
Check on project technical & financial eligibility (LTV) & conduct due diligence on property. Conduct energy audits where required.
Provide PACE financing project quotes & cash flow analyses
Coordinate with local county/municipality to gain approval for PACE financing
Secure lender consent for PACE financing
Coordinate with PACE program administrators for submittal of required documentation. Complete and submit PACE applications.
Determine appropropriate PACE funding source to ensure certainty of close and optimum timeline. Obtain multiple terms sheets.
Coordinate and consolidate underwriting documents
Negotiate progress payments with investors and PACE administrators for construction cash flow
Our services also assure the Property Owner, Lender, and Investor of the project value, realized cost savings, bankability of the technologies, system safety, and reliability.
PACE Financing Advantages
Zero Capital

and Cash Flow Positive
PACE financing covers solar PV systems, energy storage systems (for demand charge mitigation), new cool roofing systems, EV charging stations, and any energy efficiency upgrade.

100% Project Financing

and the Property Owner realizes the Federal investment tax credit, energy cost savings, rebates, and depreciation benefits.
Financing structures available for

commercial projects

and non-profits organizations.